Verstappen gets Kimi to talk
August 2016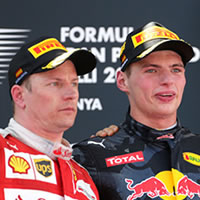 Having once again pissed off half the Formula 1 drivers by daring to overtake, Max Verstappen has been praised by many motor racing pundits for managing to infuriate Ferrari's Kimi Raikkonen enough for him to say more than one word in a post race interview.

The young Dutchman dived down the inside of Raikkonen at the first corner of the Belgian Grand Prix. Unfortunately Sebastian Vettel was simultaneously ramming his own team mate from the outside while swearing incoherently into his crash helmet. This caused both Ferrari drivers to make contact and subsequently pin the blame on Verstappen in an attempt to avoid getting lynched by the mafia.

While Vettel used the F word his customary 27 times, Raikkonen was so incensed by the incident he said more than just "yes" for the first time since 2001.

"Dutch boy make overtake. He no right in head." Was what Raikkonen had to say after the race. When asked if he felt Verstappen was to blame, Raikkonen was then quoted as saying "yes".

However, once Raikkonen's race engineer bought his driver an ice cream, the laid back Finn calmed down.