Verstappen cross with Red Bull for being a team
May 2022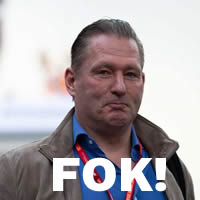 Jos Verstappen has criticised the Red Bull team for being team players and not throwing the Monaco win to allow his son Max to finish second. Perez was faster than his young team mate at the weekend and Jos said he was angry that the number two driver in the team had the audacity to be quicker than Max.

"It's outrageous" explained the Dutch Driver after the race. "Red Bull threw away an easy second place for Max today. They should have told Perez to move aside and let the Ferrari win and Max to finish second. That would have made so much more sense. I was so angry, I threw my Bong at the wall."

Team boss, Whinger Spice, has apparently apologised to the Verstappen family and promised it won't happen again. He also stated that there is a clause in Perez' new two year contract that forbids him from ever being quicker than Verstappen.