Verstappen avoids detention
September 2015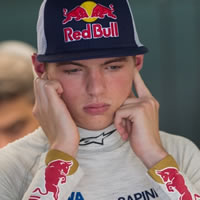 Max Verstappen has managed to get out of serving an after-school detention after ignoring team orders in Singapore.

The teenager was told to move over for team-mate Carlos Sainz but refused, claiming it was unfair and he would tell his mummy if they forced him to do it. After the race, Torro Rosso team boss Franz Tost said that he now supports Max's decision not to move over but only after the seventeen year old threw himself on the floor, had a tantrum for an hour and held his breath.

Max's father, Jos Verstappen, also defended his son saying he would have grounded him, put him over his knee and smacked his bottom if he had allowed his team-mate through. He also told reporters that he thought his son had been such a good boy for not moving over to let Sainz through that he deserved a lolly.

When asked if he had cleared the air with his team-mate, the young Verstappen simply put his fingers in his ears, shouted "la la la la la I can't hear you" and stamped his feet until all the tabloids had left the building.