Stewards to be investigated
October 2016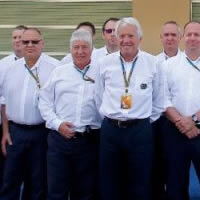 Stewards who are incapable of making a decision and insist on incidents being investigated after the race are to be investigated after the race. This comes after Max Verstappen was stripped of third place in Mexico after not gaining an advantage when he locked up under braking and cut the corner while defending from some angry, sweary German.

When asked whether he needed to concede the position, the Stewards deliberated for several laps before deciding the best course of action would be for them to make another cup of tea. As a result, the Dutch teenager finished third but the incident was investigated after the race and he was subsequently demoted to fifth. This promoted the angry, sweary German to third but an incident involving him and Daniel Ricciardo was also investigated after the race and the angry, sweary German was deemed to have been too angry and too sweary so he was also stripped of third, leaving the Australian to finish third. We think.

When asked by reporters why it takes race stewards so long to provide yes or no answers, one of them responded by saying he wasn't sure and would need a few laps to think of a good answer. Another steward simply asked if the reporter would like sugar in his tea. Race director Charlie Whiting insisted that all the data was being looked at but he was still a bit too upset to make a decision after the angry German swore at him over the radio. Although he insisted that incident would be investigated after the race.