Rosberg wins title despite slow team mate
November 2016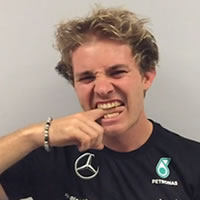 Nico Rosberg blamed his team mate for almost costing him the championship by driving too slowly. All Rosberg had to do was follow Hamilton home in second place in order to clinch his first world championship, but the German was aggrieved when, towards the end of the race, his team mate started slowing down in order to let everyone catch up to him.

"It wasn't a very enjoyable experience towards the end of the race. I mean there I was, about to finish second to Lewis again like I normally do when all of a sudden he starts to slow down. I was like 'what's going on here? He knows I crash into him whenever I try to overtake him so is he just trying to give me this championship or what'. I guess he was just trying to play mind games with me by making me think I was quicker than him when he knows full well I'm aware he's a better driver."

The Mercedes team were also upset with Hamilton's actions after he ignored several team orders to speed up, and said they would be discussing it at the team debrief. Mercedes boss Toto Wolff said he wanted to set the record straight:

"We need to remind Lewis that he shouldn't drive slowly because that is Nico's job. Lewis' job is to drive quickly and for his car to explode in order for our German driver to win the world championship in a German car. That is something we must discuss and I'm sure he'll understand."