Jenson Button spotted in Monaco
June 2017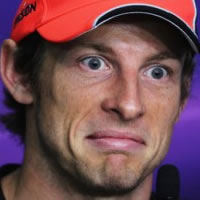 Rumours have been circulating that Jenson Button may have been at the Monaco Grand Prix last week. Numerous reports have come in stating the former World champion might even have taken part in the race, although there is little evidence to support this.

A number of witnesses, including some drivers, claim to have spotted the British star who retired last year in order to pursue a career in which his engine doesn't explode.

Sebastian Vettel was one such driver who thought he might have seen the ex McLaren driver at various points during the Grand Prix but stated it is hard to see spectators and stationary objects when travelling at speed. Former McLaren driver Lewis Hamilton suggested the possibility of a McLaren being involved in the race was minimal as the lack of black engine smoke suggested they had decided to skip the race and stay at home instead. Pascal Wehrlein claimed to have spotted Button by the harbour but was suffering from a headache so couldn't be sure.

In other Mclaren news, Fernando Alonso competed in the Indianapolis 500 in a McLaren but, in a shocking twist, his Honda engine exploded.