Grosjean and Button relishing more disappointment
October 2015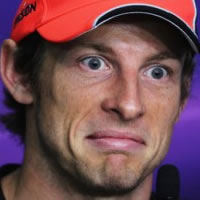 With the news that Lotus has re-signed Pastor Maldonado in order to maintain the high level of carnage in Formula 1, this has been followed by the announcements of both Romain Grosjean and Jenson Button signing contracts for more disappointment in 2016.

Grosjean announced he is leaving Lotus before they either go bankrupt or get bought by the team that sacked him six years ago and has signed a deal to race for the new Haas F1 team. In a statement to the press, the Frenchman stated he was excited by the prospect of being at the back of the grid and never scoring a point ever again and he is relishing the challenge of not beating a Marussia.

Jenson Button has also agreed to have a second year of disappointment at the back of the grid by staying at McLaren. Earlier in the week, team boss Ron Dennis admitted he had mis-handled Jenson during contract negotiations but said he was waiting to see if any other driver was prepared to put up with the level of disappointment. As it turned out, no one was.

Mark Webber made some more hard-hitting and controversial statements about these signings and the current state of Formula 1, but no one was listening.