Formula 1 "too German" says Bernie
May 2015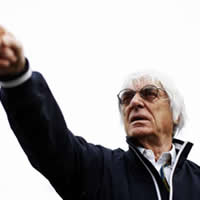 F1 chief Bernie Ecclestone has launched a scathing attack on Sebastian Vettel and Nico Rosberg, labelling them "too German" and says they are bad for the sport's image. According to Ecclestone, the decline in TV audiences has nothing to do with the politics, constant rule changes, over regulation, isolation of teams and drivers at races, obscene ticket prices or the fact that the sport is run by incompetent bellends, but is more to do with the fact that the sport is being dominated by Germans.

"Those krauts are just dull. I mean Sebastian Vettel hides away in Switzerland between races and only shows excitement by wiggling his finger when he wins a race. Nico Rosberg walks around the paddock looking like the illegitimate offspring of Britney Spears and John Tracy from 'Thunderbirds' and that is not good for business. Also, Mercedes are winning all the time and their German efficiency is enough to put anyone into a coma. And as for Nico Hulkenberg, what a tosser."

Ecclestone was, however, full of praise for Lewis Hamilton and thinks the reigning champion is a good advert for the sport, despite Nicole Scherzinger.

"I mean Lewis is the man. He is always in the newspapers sporting a new set of earrings or tattoo and saying things to make himself look like a cock and that makes people tune in. Also, I like the fact he's trying to model himself on Mr. T from 'The A Team' because everybody remembers him. He was the best one in the A Team."