Carbon fibre shares plummet
February 2016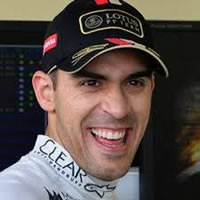 With the news that Pastor Maldonado has been dropped by the Renault team, shares in Carbon Fibre have plummeted. The Venezuelan driver single handedly quadrupled the need for carbon fibre during his five years in Formula 1 by virtue of his ability to crash several times every race. After he tweeted he wouldn't be racing in 2016, shares in the exotic material dropped to an all time low as teams no longer have the need to buy as much.

Rubber sales were also affected due to extra tyre walls no longer being needed to absorb the inevitable impact of a Renault Formula 1 car. It has also had an effect on the other drivers' insurance premiums due to the likelihood of them being crashed into having been reduced by six hundred percent.

Many Formula 1 team bosses have expressed their thanks to Lotus for saving them millions of Euros for the forthcoming season and vastly improving the level of safety at the races.

Despite the loss of sponsorship money from PDVSA, experts claim the Renault team will recoup that loss within the first two races as a result of not having to spend millions on repairs.