Alonso says beard makes him look amateur
June 2015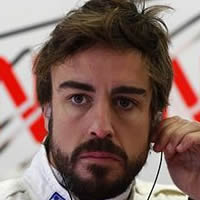 A frustrated Fernando Alonso labelled himself "amateur" during the Canadian Grand Prix, appearing to cite his facial hair or general appearance as the main reason.

During the race, the Spaniard was asked to conserve fuel as a result of his Honda Engine spitting it straight out of the exhaust rather than using it to produce power. After his engineer got on the radio informing him that they would have "big problems" if he didn't lift and coast, an angry Alonso refused, telling his engineer. "I don't want to, I don't want to. Already I have big problems driving with this beard, looking like an amateur so now I race and then I save fuel."

His comments were noted by team principal Ron Dennis who is a notorious anti-beard campaigner. He agreed with his driver's comments wholeheartedly.

"I don't think Fernando's comments were made out of frustration with the car. It's a McLaren so the car is perfect. If Jenson and Fernando just shaved off their facial hair, the weight saved would give them an extra second per lap in pace. I know because I calculated it myself using pie charts and everything."

It was another difficult weekend for McLaren as Jenson also retired with similar beard related issues.